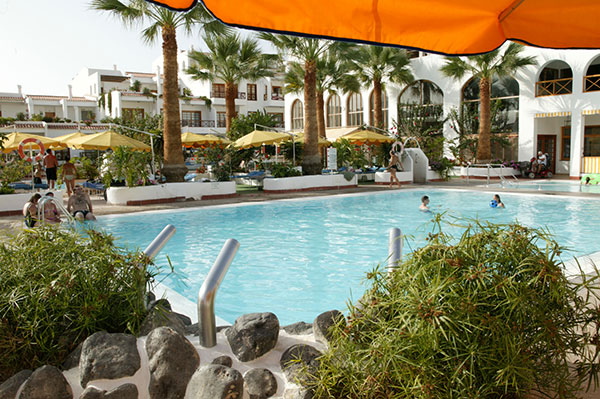 The pool area is one of the favourite places frequented by our guests and includes two big pools and a therapy pool.

One of the big pools (10,80 m x 16,80 m) is heated all year round to approximately 32ºC and provides neck-showers, whirlpools, water cascades, Jacuzzis and massage showers.

The second big pool (10,60 m x 14,60 m) has a depth rising from 1:10 m to 2 m. and a water temperature that is kept between approximately 22 ºC and 25º C. This pool is the favourite amongst our sportier swimmers.

Both pools are equipped with a hoist and easy to use steps with handrails to help the elderly and the disabled gain access to the pool.

The therapy pool (5,70 m x 10,70m) has a depth rising from 50 cm to 90 cm and is equipped with handrails along one side for the purpose of walking therapy. The water temperature in this pool is also kept between approximately 22 ºC and 25º C.

For comfort, the pool area is equipped with a large number of sun-beds that have been specially designed for the Mar y Sol. Their height allows wheelchair-users to transfer onto the sun-beds with ease and the large sunshades and palm trees offer shelter from the sun.

The pool area is also provided with a non-smoking area. A lifeguard supervises the pool 8 hours a day to ensure the safety of all swimming-pool users.