Mobility Equipment
Mar y Sol provides all guests with toilet and shower chairs. They are available on demand, free of charge, and come in three different sizes:
---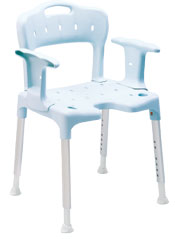 Type SDD
Data sheet
---
Type SRG
Data sheet
---
Type SRP
Data sheet
---
Aids
Magnetic loop or induction loop

Sound system that transforms the audio signal we can all hear into a magnetic field that is picked up by hearing aids equipped with the "T" position. These hearing aids have a coil that transforms this magnetic field back into sound behind the user's ear, isolated from reverberations and ambient noise. The result is that the user receives a clean, clear, perfectly intelligible sound at an adequate volume.

Installed in reception and in the conference room.
Magnifying glass with support

Designed for the visually impaired and people with coordination or steadiness problems when holding a hand aid. It is supported on the reading material.

Available to our guests at the reception desk.
---
Sound / light doorbell

This doorbell system includes two modules: – Sound / light receiver unit, with a flashing strobe light and multi-tone sound. – Battery-operated bell transmitter unit, which is left outside the door to the room.

Available at reception on deposit.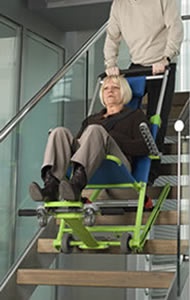 Emergency evacuation chairs

This device for going down stairs is designed for emergency evacuation. Its design, which uses V-belts that continuously rotate for controlled descent over the edges of the steps according to the weight of the passenger, means that just one person is able to evacuate another in the event of an emergency.

All hotel stairways are equipped with these evacuation chairs.
---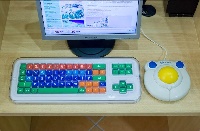 Adapted keyboard and mouse

The keys on this keyboard are larger than those of a standard keyboard, which makes them easier to identify. Each colour represents a functional area, which helps users clearly tell them apart. It is ideal for the visually impaired and those with motor skills disorders.

The adapted mouse with a giant ball and switches provides easier handling for users with motor function difficulties.

One of our internet access points is equipped with these aids.
Vibrating alarm clock

Device designed to go off at a programmed time, like conventional alarm clocks, but with a light or vibration.

Available at reception on deposit.
---
Adapted telephone with panic button

As well as the normal functions, the telephone includes three red emergency buttons (M1, M2 and M3). On pressing any of these buttons, the emergency call is sent to reception and the guest will receive assistance.

Where necessary, we also provide a bracelet transmitter for emergency calls (at reception on deposit).

All of our rooms include an adapted telephone.
Panic buttons

All of the public toilets in the hotel are equipped with panic buttons. On pressing the button, the emergency call is sent to reception and the guest will receive assistance.